Help
Category:

Fiqh of Purification

This book, Purification: the Islamic Concept, explains that under Islam the concept of purification is limited to personal and physical purity, it includes purifying oneself of sin and all disobedience of God. The book then discusses the detailed rules of physical purification, including ablution, grand ablution, the removal of impurity, dry ablution, etc. ...
more
Some mobile phones have a Quraan programs which enable one to read the Quraan anytime on the mobile's screen. Is Taharah (Purity) a condition before one starts reciting?.
Praise be to Allaah.These mobile phones in which Qur'aan is put in written or recorded form do not come under the same ruling as the Mus-haf, so it is permissible to touch them without having purified oneself and it is permissible to take them into the washroom with one, because writing ...
Continue Reading
Is it valid to read Qur'aan from the computer instead of from the Mushaf ?
In other words, reading from websites on the Internet or from text files that contain the entire Qur'aan, which is displayed on the computer screen. I work in a company and during my breaks I read Qur'aan on the computer.
Is it necessary to have wudoo' for this kind of reading, as is the case when reading from the Mushaf?.
Praise be to Allaah.There is no difference between reading Qur'aan from the Mushaf or reading from an electronic Mushaf, or from pages on the Internet, or from the screen of a mobile phone. What counts is reading, moving the lips and looking at the written words of Allah, may He be exalted, ...
Continue Reading

Tayammum replaces Wudhu or Ghusl and enables a person to do any acts of worship that normally require Wudhu or Ghusl. ...
more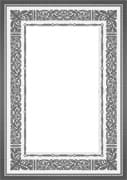 This e-book clarify rulings concerning various issues in Fiqh like Tahaarah (purity and cleanliness), Salaah (prayer), Rulings about forgetfulness during prayer and miscellaneous rulings. ...
more
How to perform Ghusl?

1. Intention, i.e. to perform Ghusl.
2. Basmallah (i.e. to say 'Bismillah' - I begin with the name of Allah).
3. Wash the hands.
4. Wash the private parts with the left hand.
5. Perform the Wudhu:
* Wash the hands three times.
* Rinse the mouth three times.
* Cleanse ...
Continue Reading
If a Muslim purifies himself in the manner ordained in the Shari'ah (Islamic Jurisprudential Laws) his Prayers will purify him from sins. ...
more

Question: Is a non-Muslim filthy, such that a Muslim must redo his wudhu if he touches one of them? ...
more
People you might follow