Help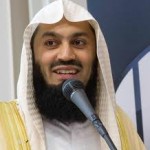 Ismail Musa Menk (Mufti Menk)



The Third Lecture of Mufti Menk at the Straight Path Convention in Kuala Lumpur, Malaysia. A perfect reminder about purpose of life and preparation of death in a real manner.




Learn how to exploit the Blessed Month of Ramadan and how to keep doing good deeds after it.




Seeds of Guidance are the driving force to every Muslim to follow the right path.


Great advices through this instructional lesson to do good deeds in life.


Have you tasted the sweetness of Iman? Mufti Menk discusses the 3 qualities which, if applied, will enable us to enjoy the sweetness of iman during his inspirational lecture series "Purpose of Creation"


Time is the great resource in this life. Listen to the the audio and share the value.