Help

I have very difficult question and I think this is my only hope that you can help me to find the answer.
I am a Russian Jewish girl and I know this Muslim guy for over a year. The longer we know each other, the more problems and difficulties we face. Not in the religious or cultural ways. We love each other and there is an issue of whether he can marry me or not.
He is a very good Muslim and he comes from traditional family. I am very fond of his beliefs and beliefs of his family. I was born in a very agnostic country and couldn't be properly introduced into any religion. It was forbidden. When I came to the US I started my research on different religions and found out that my beliefs do not really match all Jewish sayings. I did a lot of research on Islam and by looking at him and a couple other Muslim boys and girls, and by reading Quaran, I have a very strong feeling that I could become a good Muslim. I want to go to school to learn the culture and religion more precisely, to learn the language. I contacted the mosque and was ready to go... but I faced the issue: would I be accepted as a Muslim sister like other people who came from different religions except Jewish? Jews and Muslims are in big contradictions and I know that friendship is almost impossible. I am praying to God (in my home language - Russian), to lead me the right way to achieve my beliefs.
Please, help me to find my answers
Praise be to Allaah. "I have a very strong feeling that I could become a good Muslim". The way you express yourself so clearly in your message indicates that you are indeed open to the truth and have been sincerely seeking for it. "I am praying to God (in my home ...
Continue Reading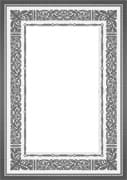 The Muslim Woman's Dress according to the Qur'an and Sunnah compiled by Dr. Jamal A. Badawi To some as a subject the Muslim women's dress may sound trivial. The shari'ah, however, assigns it moral, social, and legal dimensions. One basic requirement to be a true believer according to the Qur'an is to make one's opinions, feelings, and inclinations subservient to whatever Allah and his Messenger decided. ...
more
I am a young Algerian man married to a foreign Christian woman who has an inclination towards Islam. But Allah has willed that we should separate. My question is: is the kitaabi (Jewish or Christian) woman required to observe 'iddah and do I have to impose it on her if she refuses to observe 'iddah? There is a second problem, which is that I am living in her house and I do not have any other accommodation to go to. What is the Islamic ruling concerning that?.
Praise be to Allaah. Firstly: The kitaabi (Jewish or Christian) wife should observe 'iddah following divorce or death of the husband, just like the Muslim woman. It says in al-Mawsoo'ah al-Fiqhiyyah (29/336): The Hanafis, Maalikis, Shaafa'is and Hanbalis, as well as ...
Continue Reading
In fatwa no. 141473 you mentioned in detail that prayer is not valid with the hair tied back. Does this apply to women too? Is it permissible for a woman to pray with her hair tucked up or tied back? I hope that you can give the evidence in detail because some scholars here in Pakistan say that that is not permissible.
Praise be to Allaah. Firstly: In the answers to questions no. 96280 and 163428 we stated that it is makrooh for a man to pray with his hair tucked up, which means that he gathers his hair together and ties it back, thus preventing it from prostrating with him. The prohibition in this case ...
Continue Reading
I embraced Islam -praise be to Allah- and now I want to keep myself chaste, but my parents think that the most suitable age of marriage is not until twenty-five or preferably twenty-eight. Even worse than that, one of them thinks that there is nothing wrong with friendship and relationships outside of marriage - Allah forbid. The matter is extremely difficult and I do not know how to talk to them about this matter. I want to keep myself chaste; I want to marry a man who will help me to adhere to my religion, a man who will stand beside me and help me, a man who will live with me, because I am living far away from my parents. They are divorced and each one lives in a different city. I do not know how to explain these details to them in order to convince them that I should get married early; rather they think that getting married at an early age is something that is not appropriate. I am the only daughter of my parents, hence I do not want to disobey them and I do not want to upset them; I do not want them to forsake me either. I want at least to do the marriage contract, then delay consummation until Allah wills.

My questions are:

1. Is it permissible for me to do the marriage contract but delay marriage and the waleemah (wedding feast) and consummation for five years, for example?

2. Do I have to repeat the marriage contract in front of my family later on and pretend that I was not married? Or is that regarded as coming under the heading of lying? I hope you can advise me because I do not know what to do.

Praise be to Allaah. Firstly: We congratulate you for embracing Islam and we ask Allah to make you steadfast in it and to guide your parents and your family to Islam, for He is the Most Generous. Secondly: If a woman becomes Muslim but her family do not, they do not have any ...
Continue Reading
What can a woman who is menstruating do on Laylat al-Qadr? ...
more
If an old woman has converted to Islam, is it permissible for a young Muslim man to go to her home, because he wants to help her in cleaning her home and washing her clothes, cooking and so on? Is it allowed to go to her to teach her Islam at her own home ...
more

Evidence Prohibiting of Mixing of Men and Women ...
more

One of the things that people misunderstand is when they say that 'Islam is the religion of equality'. What they should say is that Islam is the religion of justice. ...
more
It often occurs to me that many of my sisters in Islam are not properly encouraged once they begin to observe the requirements of Hijab. ...
more
I am a Muslim male, 24 years old. I live in the U.S. I have known a particular girl for over 6 years now, and she is a HINDU. She and I want to marry, and she wants to learn more about Islam and convert after her knowledge and faith are stronger... ...
more
Picture this: a perceptive and intelligent woman, respected and generous, owning a business known for its integrity in all business transactions.
If you're like most people, you probably conjured an image of a 21st century corporate type, but in fact, the woman I described is a ...
Continue Reading