Help

Sheikh Abdullateaf Al-Ghamdi: Allah has perfected the religion and this blessing reached every human being. The Prophet صلى الله عليه وسلم has perfected, what has been revealed from His Lord, the responsibility for clear notification.
Sheikh S'ad Al-Ghnna'm:The message from Allah ...
Continue Reading
View all

A short pamphlet about the morals of the Prophet (Peace be upon him) ...
more

All of us wonder about the way the Messenger (PBUH) was with his wives. How he dealt with them? How he treated them equally? The Prophet accomplished the happiness to every one of them; that is because he knew how to deal with women. He penetrated deeply into her sensitive soul and he went on apostrophizing her with the warmth of passion and assisted her to work for her religion and life. ...
more


A Messenger would challenge his own people to perform the like of the miracles that he had achieved and that human beings could not do, whereupon they would surrender to the Signs and Miracles of the Messenger and learn that he was a Messenger from their Creator. ...
more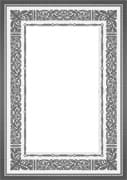 Evidences, proofs and testimonies on the message of the seal of the prophets and what he bought forth for the whole of humankind ...
more
People you might follow