Help

View all
What are the signs of Allah's love for His slave?
Praise be to Allah.You have asked about a serious and weighty matter, which none attain but very few of the righteous slaves of Allah. The love of Allah is "the status for which the righteous compete and strive, It is the nourishment of hearts and souls, the delight of the eyes, It is the ...
Continue Reading


سُورة البقرة هي أطول سور القرآن الكريم. وقيل: هي أول سورة نزلت في المدينة و عدد آياتها 286 و هي السورة الثانية من حيث الترتيب في المصحف


View all
Many people tell us "but the Bible clearly says that Jesus is the Son of God. How can you say that Jesus is not God's only begotten son when Jesus says it so clearly in black and white in the Bible?" Well, first of all, as seen in the previous section, we first need to know the ...
Continue Reading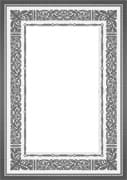 This is a short whose author has endeavored to present to us what the Prophet and his companions maintained in the most serious area of faith, which is the area of beliefs. He also explai ...
more

سُورة البقرة هي أطول سور القرآن الكريم. وقيل: هي أول سورة نزلت في المدينة و عدد آياتها 286 و هي السورة الثانية من حيث الترتيب في المصحف


View all